In the historic centre of Castrì there are several 'case a corte'. Guarino Palace was built in the 17th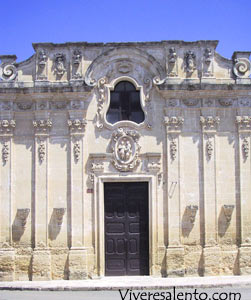 century, has a finely decorated portal with an elegant loggia. Other important palaces are Doria Palace (17th century), Gargasole Palace and Barbano Palace both dating to the 18th century. The most important church is the Mother Church and is dedicated to St Mary of the Visitation. It dates to the 18th century and was built on a pre-existing church of the 16th century. The façade has a beautiful portal with refined decorations. The Chapel of Our Lady of the Light dates to the 16th century and looks very simple. The Church of Our Lady of the Graces was built at the beginnings of the 17th century. The building is simple and elegant. It opens only once a year for the celebration of the Virgin. The beautiful Church of St Vito dates to 1734. It has some interesting Baroque decorations by Vincenzo Carrozzo and Francesco Palma. The façade has a beautiful portal, inside there are beautiful altars and refined paintings. The Altar of the Rosary dates to the 18th century and the painting with Our Lady of the Rosary was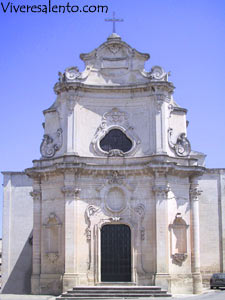 probably made by Donato Antonio D'Orlando. The lands around Castrì are mainly vineyards and olive groves. Those two trees are so common to be represented on the coat-of-arms. In Castrì there are many old dark underground oil mills. Outside the urban area there are also the rests of some fortified farms. Castrì has two patron saints: Our Lady of the Visitation is celebrated on July 2nd and St Vito celebrated on June 15th.

The nickname of the people of Castrì is "cuccuiu" that sounds like the cry of the owl. They are told to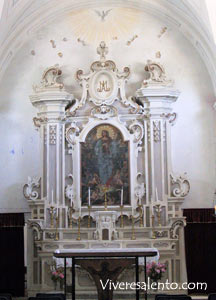 be touchy and irritable like this animal. The legend says that a person from Calimera bet with his friends that he would go to the mayor of Castrì and tell him 'cuccuiu' thrice. His friends thought he was joking, because nobody would dare doing it but that young man went to the mayor of Castrì, he actually insulted him thrice then run away faster than the wind.