Inhabitants's name: Castrisani
The civic coat of arms of Castrì di Lecce has a grey background with a vine-shoot, a bunch of grapes,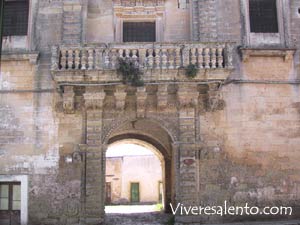 an olive tree and a six-point star. In the past there were three menhirs but nowadays there is only one left, the Menhir of the Light, and is 2.76 m tall. The other two were called Aja and Cross and were 2.25 and 2.80 m high. We are not certain about the origins of the village. the name could derive from the Latin word 'castrum', an old fortress. In 1190, the King Tancredi d'Altavilla gave the village to the Bishop's Revenue of Lecce until 1262. The village was then divided into two parts. One part was bought by Oliviero De Lettere whose daughter married to the Francones and so this part of the village was called Castrì Francone and in the 18th century was ruled by the Matteis and Giovanni Cicala, the baron of Sternatia. The second part of the village was given to the Condòs, then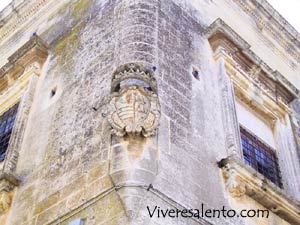 to the Guarinos, was called Castrì Guarino and was sold to Bernardino Cicala in 1617. In 1480 the Turks arrived in the Salento and many fugitives came to Castrì Francone. At the beginning of the 18th century Domenico Andriani bought both parts of the village. andrea Veranzza was the last person to rule the village until 1806 when the feudal system came to end. the name 'Castri di Lecce' dates to the 1891. Among the famous people from Castrì di Lecce we remember: Antonio Verri was born in 1923 and was an appreciated philosopher. He taught in many secondary schools , he also worked in the University of Lecce. He was councillor in 1946 and died in 1998. Adriano Barbano was born in 1926 and was an appreciated director. He directed several famous short films and won the First International Cinema Festival in Pesaro in 1963. He founded 'TV Lecce' in 1970 and TeleLecce' in 1973 two of the first TV broadcast in the Salento. He died in Lecce in 1985.