In the historical centre of Leverano you can visit an imposing tower that, in the past, was situated on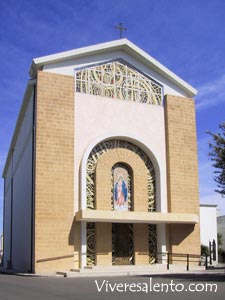 the outskirts of the old village. It was built in 1222 and it was commissioned by Frederic II of Swabia in order to fortify the defences of the inhabited centre. It is more than thirty meters tall and it is well decorated. Among the religious monuments there is the Mother Church dedicated to the Madonna and dating back to the XVI century. The façade is decorated according to the Renaissance style and it has a beautiful front door and two smaller side-portals. Inside there are some elegant altars, a beautiful wooden choir (1615) and valuable XVII century canvasses. The bell tower of the church was built in 1961 and it is thirty meters tall. The Convent of the Minor Friars is an ancient XVI century building built in Gothic style. Inside you can still see the rests of very precious frescoes and next to the convent there is the Church of St Maria of the Graces. The Church of the Madonna of the Consolation was built in the XVII century, after a miraculous event. Some people tell that one night two farmers dreamt about the Madonna: she had told them where to find a painting representing her face. The following morning the two men, being instructed by the Madonna, started digging and while they were working a rich man riding his horse arrived and asked them what they were doing. He mocked them but as soon as the two peasants found the painting the horse got out of control and the rich man fell down just in front of the holy image. He repented of his behaviour and he gave the money for the construction of the church where now you can admire an ancient Greek-Byzantine picture of the Madonna. The protector of Leverano is St. Rocco, that is celebrated solemnly on August 16th.

The nickname of the inhabitants of Leverano is "ranucchiulari" that means toads. They are called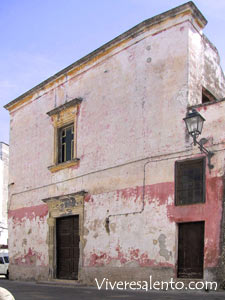 "toads" because in this small town there is much water gushing from the ground. What is more in the past there was a marsh between Leverano and Veglie that was the ideal habitat for toads and frogs. After the reclamation, the swamp has disappeared, but the inhabitants of Leverano have still this nickname.