The Ducal Palace was built by the Filomarinis on a pre-existing castle of the 17th century. The tower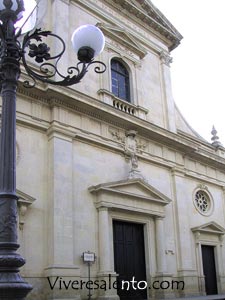 and the first floor were restored from the old castle. The façade is decorated with a portal. The whole structure is not in good conditions therefore is close to public. The Bucci Palace and the Calò Palace date both to the 18th century. the Mother Church was built in the 16th century and is dedicated to Our Lady of the Snow. The façade is finely decorated, it has three portals, two rose windows and a huge window. The church has a nave and two aisles with the altars carved in our local stone and the beautiful paintings representing the Virgin with the Child and the saints. It was restored several times. The Byzantine crypt of St Joan was dug in the rocks by the Basilian Monks in the 8th century. In the past, the crypt was the entrance for another early Christian church but this one has now collapsed. Inside people can see the rests of a fresco while outside there used to be some Byzantine graves. The Church of the Virgin dates to the 1764 and was designed by Felice De Palma. It has an octagonal plan and is aisleless. The façade is decorated in baroque style, in the upper part there are two niches with the statue of St Filippo and St Rocco and the coat of arms of the Bourbons. The
paintings show the life of Mary and were made by Saverio Lillo. Many churches and small chapels were destroyed in the 17th –18th century as, for instance, the churches of St Nicola, of the Redeemer, of St Elia, of St Stephen and so on. Outside the urban area people cans till visit the fortified farms such as Masseria Astore, Masseria Manti e Masseria Scacciato. Clay has been worked for ages in this village and it is famous for this reason. The oldest pieces of earthenware and other archaeological findings can be visited in the Earthenware Town Museum in the Town Library. The patron saint of Cutrofiano is St Anthony of Padua and the population celebrates him on June 13th and August 7th and 8th.

The inhabitants of Cutrofiano have two nicknames: "mpatulati and "pignatari". The first word refers to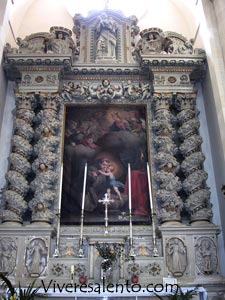 the marshes that were around this village, this word appears also in an old poem in Griko. The second nickname refers to ceramics which is the most important activity of the village. The subsoil of Cutrofiano is rich of clay and people has learned how to work it into wonderful ceramics.