The castle of Acquarica was built in the Norman period. It had a square plan and four towers but only one of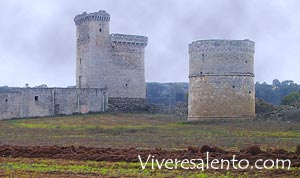 them is left. This tower was built in the 15th century in order to protect the castle from underground mines which could make the whole building to collapse. The castle was restored several times as we can guess by the family coat of arms on the front. The Boccadamo Palace has a portal that was probably built with the rest of a sunk ship. The Marzo Palace was built in the 18th century , its façade has an interesting portal. The De Leo palace dates to the 18th century and the Grezio Palace is a fortified building. The Villani Palace was built at the beginning of the 20th century. The Magagnino Palace was built in 1829, it has an interesting portal and is in the historic centre. The Town Hall
Palace dates to 1887 was restored between 1963 and 1997 and has a statue representing the civic coat of arms. The Parish Church is dedicated to St Charles and was built in 1661. The façade is simple and it has a wide oval window. The bell tower has two bells dating to 1772 and 1849. The church has a nave and two aisles with the beautiful altars made in stone a painting of the Virgin (16th century) and a wooden statue of the Virgin (18th century). The former Parish church was the Church of Our Lady of the Loaves so called because it is close to a field where people used to grow wheat for the bread of the poor people. The church is aisleless and dates to the 11th century. The façade is very simple and inside there are rests of old Byzantine frescos. The legend says that the bell of this church was prodigious because it could send the storms away. The church of the Baptist was built in the 1828 on the rests of a 16th century building. On the façade there is a niche with the statue of the saint. It is an aisleless church and inside there are several altars, two wooden statues of the Virgin and the Baptist, the papier-mâché statues of Jesus and St Lucy and the paintings of St Gerardo and the Immaculate Conception. The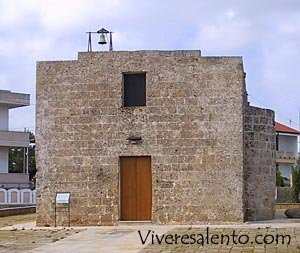 Chapel of Our Lady of the Bridge is close to the Church of St Mary as a Child and was finished in 1824. The façade is very sober, on its portal there is the a sculpture representing the civic coat of arms. The church is aisleless and inside there are 4 altars and the wonderful statue of St Mary as a Child. The Church of the Risen Christ dates only to 1975. It is aisleless and its façade looks very modern. The Chapel of St Donato was built according to the will of Donato Occhilupo for favours received. The façade has a round window and is very simple. The Chapel of the Virgin was built in 1905 according to the will of Luigi Boccadamo and is very simple. The Chapel of Our Lady of Pompignano is dedicated to Our Lady of the Assumption and was built in the 18th century. On the high altar there is an interesting fresco of Our Lady. The oldest religious building of Acquarica is the Chapel of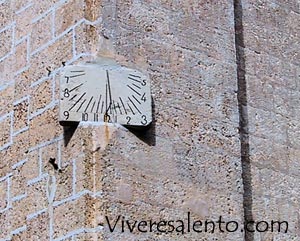 St Nicola because it dates to the 11th century. This chapel is close to the Masseria Celsorizzo and it is not in good conditions. Inside this aisleless chapel there were some beautiful frescos but they have been destroyed by the fire and we can only see the rests of a fresco representing God showing the Tables, with Greek inscriptions. The dovecot close to the Masseria Celsorizzo was built in 1550 according to the will of the Baron Guarino. In the countryside around Acquarica there are several fortified farms such as the Masseria Baroni with its two towers, the Masseria Colombo and the Masseria Volpi, those last two date to the 16th century. The oldest underground oil mill of Acquarica is the cave oil mill of Celsorizzo. The patron saint of the village is St Charles Borromeo and is solemnly celebrated on November 4th.

The nickname of the people of Acquatica is "spurtari" which come from the dialect word 'sporte', a bag
made with some small rushes that usually grow near the marshes. The women of Acquarica were very skilled in weaving the rushes making baskets, bags or other containers, while men went to sell them.