At Tiggiano there are a lot of artistic monuments as the imposing Baronial Castle that was built in the XVII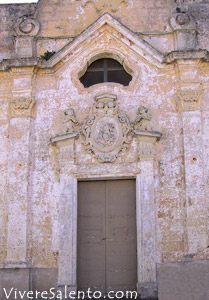 century on a pre-existing XVI century building. It has an elegant façade marked by the interesting decorations of the portal and the balconies of the windows. In the courtyard you can see an ancient Renaissance well and at the back of the castle there is a thick wood that adorns the whole building. One of the most important churches is the Parish dedicated to St Ippazio. It was rebuilt on the rests of a XVII century monument that was destroyed by the Turks in 1480. The façade is simple and the portal is well-decorated. The bell tower of the church was built later, in fact it dates back to the XIX century. In this church with nave and two aisles there are six baroque altars and valuable paintings. Near the altar of the Madonna of the seven pains there is a font made by some local artists at the end of the XV century. At the beginning all the valuables, including the jewels the believers had given for being helped by God, were kept in the church. Later most of them were stolen, so the other valuables were transferred to a safer place. Here you can still a wooden cross covered with silver made by a Neapolitan artist whose name was Filippo del Giudice. The Church of the Angel is a very simple XVI
century monument and it has been restored a lot of times so far. The small Chapel of Our Lady of the Assumption dates back to the XVII century. It was built on a pre-existing baroque monument and it has a beautiful front door. The Chapel of St Lucy was probably written in the XVIII century and it is very linear. Outside the inhabited centre near the Adriatic coast you can see the Nasparo Tower: it was built in 1565 and commissioned by the Duke of Alcalà. The first custodian was the Spanish Martinez, that guarded the tower for thirteen years. The protector of Tiggiano is St Ippazio, that is celebrated solemnly on January 19th.

The nickname of the inhabitants of Tiggiano is "gente cu do facci" meaning "people with two faces." This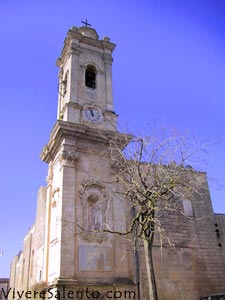 dialect expression is used to mean those who change often their mind. What is more the nickname might derive from a legend according to which the centurion Titio, founder of the first inhabited centre, imposed the image of the god Janus as coat of arms of the village being very devoted to the god from the double face; in fact he promised to build an altar in his honour if he had won a war. After his victory he imposed the adoration of the god to all his soldiers. It is also clear that this nickname could be simply a consequence of the image of Janus represented on the coat of arms.