The Baronial Palace is an old fortress without great artistic decorations and dates to 17th century. The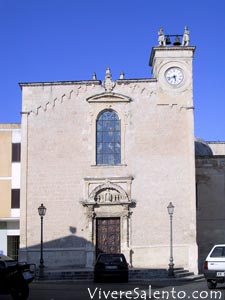 parish Church is dedicated to Our Lady of the People and was built at the end of the 16th century on a pre-existing Gothic structure of the 14th century. Its style represents the evolution from the Renaissance to the Baroque period. Inside we can still see the rests of the previous structure. The Tower of the Clock dates to the 1586. The façade has an elegant portal with a statue of the Virgin. The Church of San Vito, the Church of Our Lady and the Church of Saint Maria of Loreto date to the 17th century, while the Church of St. Pantaleo dates to the 18th century. The Chapel of St Lucy and the Church of St Lucy were built in 1970 and in 2000. The Chapel of Our Lady of the Pity is outside the urban area on the street that leads to Giorgilorio. It is in a very bad state and in the nearby there is an underground oil mill. The oldest religious building of the village is certainly the Romanic Church of Saint Maria of Daurio dating to the 11th century . In the countryside surrounding Surbo there are many fortified farms such as Masseria Sant'Angelo, Masseria Melcarne, Masseria Schiavelle and many others. The patron saint of Surbo is Our Lady of Loreto and she is celebrated on every Tuesday the week after Easter.

The inhabitants of Surbo have two nicknames: "cazza malote" (cockroach killers) and "carcaruli" (those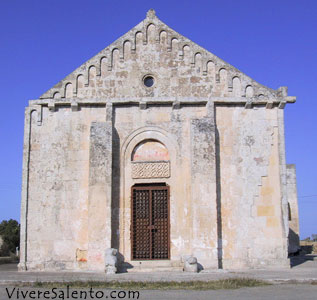 who work in the 'carcara', the furnace where the calcareous stones were turned in lime). In the territory of Surbo there were several caves of our local stone and of lime, where the population of Surbo used to work. During the Second World War the caves were bombed by English air force because they were confused with the steelworks for the production of weapons. Six people died for this misunderstanding. The people of Surbo had almost dump houses, therefore infested by cockroaches, which they tried to kill in every way.