In the historic centre of Supersano the tourist can admire the narrow streets and beautiful palaces. The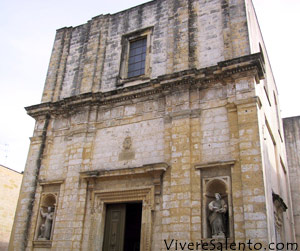 stately castle was built in the 16th century on a pre-existing structure. It was built as a defensive structure then was restored several times. On the façade there is a beautiful portal while inside there are large rooms. The Mother church is in the historic centre and was built in 19th century on a pre-existing structure of the 18th century. The façade is fine and sober with a linear portal. Inside there are some gracious altars, beautiful altars and an old font in Romanic style. In the cimitery there is a beautiful crypt dug in the rocks and dates to the 12th century. the old frescos on the walls date to the 13th century and represent St Andrea, the Baptist, St Michael, St Nicola, the Virgin with the Child and St Stephen. Its two altars are finely decorated. Close to the crypt there is the Sanctuary of Our Lady of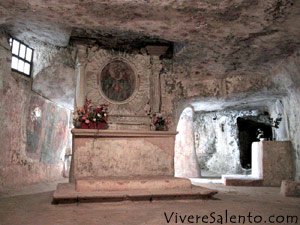 Coelimanna was built in the 18th century after a prodigious event. A young lord was riding in the wood on his horse when it stopped close to a megalithic stone and kneeled for a while, then began to ride again. It stopped and kneeled other two times and the lord understood it was a sign of the Virgin because she wanted a church to be built in that place. The external steps are spectacular, the façade has a beautiful portal and is finely decorated, the inside is simple. Supersano has two patron saints St Michael Archangel is celebrated on May 8th while Our Lady of Coelimanna is celebrated on July 2nd.

The nickname of the people of Supersano is 'pigs'. In the countryside around the village there was once a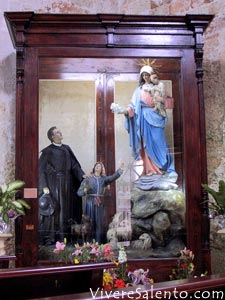 huge oak tree with a hole in the trunk. It was so big that four men could find shelter in the trunk. The hole in the trunk made slowly the oak tree die and it was thrown down. The acorns are the fruits of the oak tree and, since they are the favourite food for the pigs, the population of Supersano was given this name.