In the historical centre of San Pietro in Lama you can see the typical "case a corte" and some noble palaces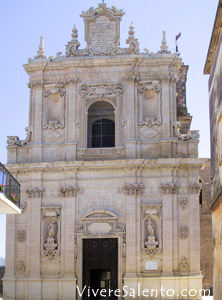 such as Romano Villa and Town Hall (Palazzo del Municipio) dating back to the XVIII century. There are some religious monuments as well as the Mother Church dedicated to Our Lady of the Assumption. The stately building was finished in 1715 and its style is baroque. The wide façade is richly adorned with a beautiful portal of entry, that is between two niches containing the statues of the saints. You can also see a big well decorated window. Inside there are some elegant altars, some XVII century paintings and an interesting crucifix of the XVII century too. Outside the urban centre there is the small Church of St Maria of the Graces, an ancient building where there are some frescos of the XVI century. The Church of St Maria of the Cross probably was built in the XVII century. The beautiful façade is well-decorated: inside there are some interesting baroque altars to see, some XVI century canvases and a highly-appreciated XV century fresco. The Churches of St Antonio and St. Luigi were built in the XVIII century, while the Church of the Immaculate Lady is a beautiful XVI century monument. The patron of the small town is St. Peter, that is celebrated on the first Sunday of July.

The nickname of the inhabitants of San Pietro in Lama is "stumpacrita" a word meaning " to crush the clay."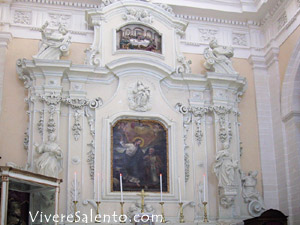 This is due to the fact that in this small town people work the clay and make very beautiful objects. The nickname was invented by the inhabitants of the neighbouring villages to make reference to the lack of temperament and audacity of the people of San Pietro in Lama, who are as "frail" as the clay they work.