In the historical centre of Ruffano there are very interesting monuments to see as the religious monuments, the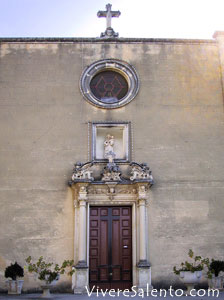 noble palaces and the typical case a corte. The stately Castle is next to the Parish and it was built on the rests of an ancient medieval fortress. On the portal you can see the coat of arms of the family that made it build. The rooms are very ample and the loggia that unites the Castle to the Parish is very elegant. Other important palaces are Leuzzi Palace, Palombo Palace and Brancaccio Palace. In the historical canter you can see the stately Mother Church, dedicated to the Birth of the Holy Virgin Mary. It was built between 1706 and 1712, on the rests of an ancient monument and it is Latin cross. The imposing façade has a richly decorated baroque portal and inside you can admire some splendid altars and canvasses made by Saverio Lillo, an artist from Ruffano. After the jobs of restoration some ceramic objects dating back to the period between the XIV and the XVII centuries have been recovered. Now the church is a national monument. The Church of the Madonna of the Good Counsel was built in about twenty years, since it was very difficult to collect the necessary funds to finish it. It dates to the XIX century and it is situated where there used to be the old Church of St. Foca. Inside there are six altars of stone from Lecce, and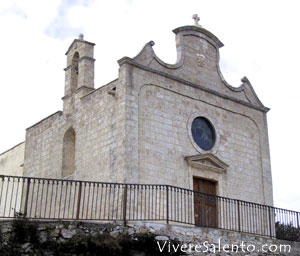 at the back of the high altar there is a beautiful painting of the Holy Virgin Mary. The Church of the Carmine, dating to the XVIII century, has a façade decorated with an interesting, baroque portal. Inside there is the Crypt of St. Mark, that was built in the XII century: here you can see the rests of some ancients frescoes. The Church of the Madonna of the Serra is situated outside the inhabited centre, above the sea level. From the church you can see a wonderful landscape. The façade is very as simple as the inside. On the only altar, richly decorated, there is an interesting painting of the Madonna with the Child. At Ruffano there are some farms too, for example the Mariglia Farm, that was commissioned by the homonymous family and built in the XVI century. Now it is used by some volunteers. The protector of Ruffano is St Anthony, that is celebrated solemnly on June 13th.

The nickname of the inhabitants of Ruffano is "mangiafraseddhe" meaning frise eaters. The frisa is a typical,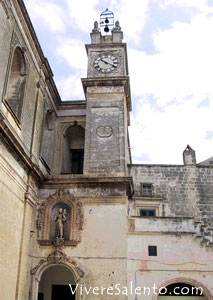 traditional dish of the Salento. It consists of dry bread that must be wet before eating and it is seasoned with oil, salt and tomatoes, or tuna, aubergines and artichokes. The farmers of Ruffano, when they went to work in the country, used to eat the frise at lunch because they were easy to prepare, but also good and nourishing.