One of the most beautiful monuments the visitors can see in the historical centre of Presicce is the Ducal Palace,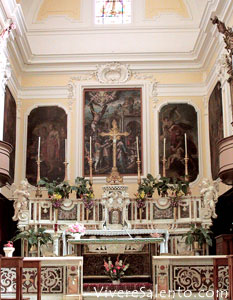 built in the XVI century on a pre-existing Norman fortress. In the past it was first used for defensive purposes and then it was turned into a noble residence for the feudal vassals and their families. It has been restored a lot of times and its style is baroque but there are also some Renaissance decorations. The imposing main façade is well-decorated and inside there are some nice hangings gardens. Other interesting noble residences to see are Alberto Palace, that has a beautiful baroque portal, Villani Palace, Serracca Palace, Izzo Palace and Arditi Palace. The most important religious monument is the Mother church dedicated to St Andrew: it was built in 1871 to replace the old parish that had collapsed in 1473. It is richly decorated, and on the façade there are a big window and a beautiful portal. In this Latin cross church there are nine well adorned altars made by Coppola and Tiso. Opposite the church you can see the stately column with a beautiful sculpture representing St Andrew. At Presicce you can also see the Basilian Crypt of St Mary of the Cave, where there are the rests of ancient frescos and inscriptions. Near the crypt you can visit the Church of St Mary of the Angels, that is richly decorated, and it was probably built in the XVII century. The Church of the Carmine was built in the XVIII century. The façade is simple while the high altar is decorated in baroque style. Next to the church there is the Convent of the Carmelites and in the courtyard the visitor can admire the rests of some ancient frescoes representing holy scenes. At Presicce there are a lot of subterranean oil presses dug in the rock between the XIV and the XVI century. The protector of the country is St Anderw, that is celebrated solemnly on November 30th.

The nickname of the inhabitants of Presicce is "mascarani" that means "masked people". This nickname can be
explained by making reference to a popular story according to which in the XVII century the population of Presicce was in conflict with the feudal vassal because he was despotic and he claimed the first night of wedding of the young brides. One day, at Carnival, a lot of people went down in the streets to dance and enjoy themselves and a young man shot the tyrant who was standing near the window to see the celebration. Nobody noticed anything because there was much noise and when the inhabitants of Presicce did not see him anymore at the window they thought he had decided to leave the feast.