Ortelle is a small centre of the Salento where you can see some interesting artistic monuments. The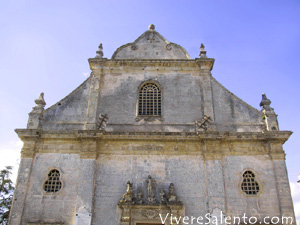 historical centre is very characteristic, with its narrow streets and the beautiful "case a corte" . Among the religious monuments there is the Mother Church dedicated to St. George. It was built in the XVII century after the Baroque style. The façade is decorated with a well decorated portal dated 1633. The plant is Latin cross and inside you can admire some interesting canvases representing religious images and some baroque altars graven by Cesare and Placido Buffelli, good artists of the Salento. The Church of the Immaculate has got a simple façade that mirrors the simplicity of the interiors. Outside the inhabited centre there is the Chapel of St Vito and St Marina. It was built in the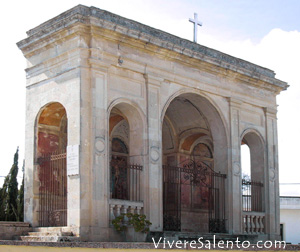 XVIII century on a pre-existing building. In 1987, while they were restoring it, some ancient graves were discovered. The external façade is very simple: inside there are two wonderful XVIII century paintings representing St Marina with the dragon and St. Vito. The small church of the Madonna of the Cave is very interesting from the historical - artistic point of view. In the past there were three naves and four altars. Now there are three altars dedicated to St Cosma and St Damiano, to St Eligio and to the Madonna of the Graces. Also there are some very interesting frescoes representing the Trinity and the Lady with the Child. Both were probably made between the XIV and XV century A.C. The protector of Ortelle is St. George that is celebrated solemnly on August 10th.

The nickname of the inhabitants of Ortelle is "nighiati", that is "foggy people" since according to a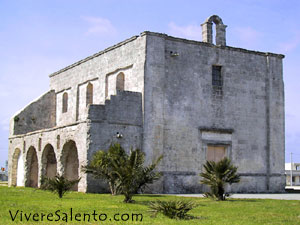 popular story, in the past, during the night of Christmas, two men reached the top of the bell tower. Looking down they did not see their own village, but the sea (or nay they believed it was the sea). Since they wanted to have a bath they jumped out of the bell tower and it was too late when they realised it was a thick fog and not the sea what they had seen. So the nickname makes reference to the fact that the people of Ortelle are a bit foolish and naive.