In the historical center of Nociglia you can admire the typical narrow streets, the beautiful case a corte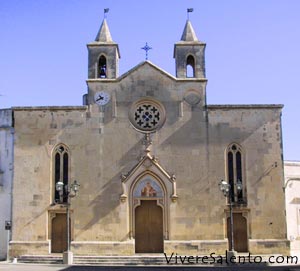 and the ancient Baronial Palace, built at the end of the XVII century on a pre-existing fortress and constituted by an imposing XVI century tower, that has a square plant. The façade has an elegant well-decorated front door and a beautiful XVIII century balcony. The most important religious monument is the Mother Church dedicated to St. Nicholas. It was built in the XIX century on the rests of a preceding church and it was commissioned by the priest Domenico Marzotta. It was projected by the Earl Bacile in Gothic style. The façade is very linear and inside you can see some elegant altars and interesting canvasses. Near the Mother Church you can see the simply decorated Chapel of the Madonna, probably dating back to the XIX century. In the historical centre there is the Chapel of the Lady of the Itri built in the XIX century, on the rests of an ancient monument after a prodigious event. At the end of the
XVII century Nociglia was afflicted by a long period of drought. The population was desperate because the main economical activities of the little town were based on agriculture. Many believers went to the church and they started to pray the Holy Virgin Mary and while they were still in the church it started raining. That blessed water saved the harvest, and the population decided to build a chapel. The façade of this chapel is very linear and it has a beautiful portal. It has a rectangular plant and aisless. Here you can admire some valuable XIV century frescoes and a well decorated altar. Outside the urban nucleus there is the Chapel of the Lady of Farnese. It was probably built in the XVIII century. The protector of Nociglia is St Anthony from Padua, that is celebrated solemnly on August 19th.

The inhabitants of Nociglia have two nicknames: "furcunari" and "craunari" : the former means farmers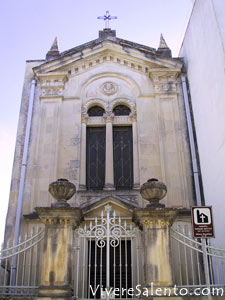 who use the pitchforks while the latter means charcoal burners. Both these nicknames are closely connected to the past jobs of the people of Nociglia: in fact, in the past many men used to work in the fields, to pick up the wheat and to beat it with the pitchforks, thus separating the grains from the ears. The "craunari" produced coal, that was notably used in the past.