The Del Tufos Palace was built in the XIV century, while the portal is probably dated 1711. It was restored in the XVIII and today it is in good conditions: here you can see the civic coat of arms of the Del Tufos Palace,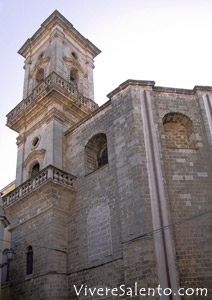 some paintings and a small garden. At Matino there are ten churches: the Mother Church, dedicated to St. Giorgio, was built on the rests of an ancient medieval church. It is dated 1753 and it was planned by Margoleo and Negro. It is Latin cross, it has got eight altars richly decorated after the baroque style, some precious paintings representing the Madonna and the souls of the Purgatory and some pretty well known pictures as that of St Oronzo dating back to the XVII century. The Church of the Our Lady of Sorrows was finished in 1754 as the Caroppo family wanted: it is in baroque style and in 1938 it was declared a Marian Sanctuary. The Church of the Crucifix was built in '700 on the rests of a medieval Chapel dedicated to St. Antonio: inside there are some highly appreciated baroque paintings representing St. Peter (it was made by Giuseppe Ribera in the XVII century). The Church of the Carmine is dated 1603;: here you can see a wonderful high altar ( built in 1653 by Martinelli) and a painting representing the Madonna with the Child ( XV century). The Church of the Pity was built in 1620 while the portal in 1716: inside you can admire some paintings dated 1692 and a wooden Cross that the people of Matino carried in to Rome in 1750 . The Church of the Immaculate was built by the middle of the XVIII century and it has got a very sober façade. Getting out of the inhabited centre, in the country there are the chapel of the Madonna of Sanarica and the Chapel of St Anastasia (private property). In the country you can also see a bronze monument called the "Black Madonna," dated 1915 and made by Bortone. The Patron of Matino is St. Giorgio and the celebrations continue for three days, from 22 to 24 of April.

The nickname of the people of Matino is "bruscia pajare" (people that burn the pajare). The "pajare" were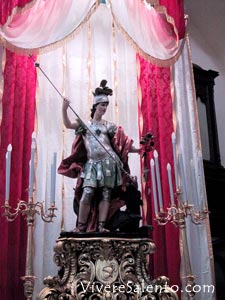 shelters built with straw and withered branches . They were built near the plantations and were often a place where to take refuge in summer time, above all during the thunderstorms. At the end of September, when the peasants went back to the village because of the cold season, the "pajare" were burnt. The people of Matino are denominated "brucia pajare" since as the pajara takes fire immediately, but then the fire dies out with much rapidity, equally the passionate and impulsive people of Matino become angry quickly, but they forget everything soon.