When you enter the historical centre of Galatone you can see the ancient St. Sebastian Porta, initially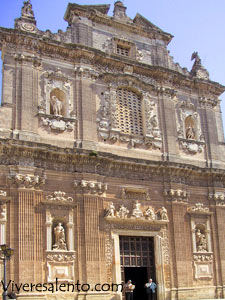 denominated Porta della Grotta: here there are a lot of noble residences as Consegna Palace, Tafuri Palace and an enormous quadrangular tower of a Castle dating back to the XVI century. Here you can also admire the typical case a corte very common constructions in the and some religious monuments as the Mother Church dedicated to Our Lady of the Assumption. It was finished in 1595, and it has been restored several times. Themain façade has a beautiful well-decorated portal and some windows made according to the Renaissance style. The plant is Latin cross and inside you can admire the baroque altars, a valuable canvass representing the Crucifixion made by Donato Antonio D'Orlando. The Church of St Anthony dates back to the XVIII century and the Dominican Monks wanted it to be built on the rests of the XVI century Church of St. Sebastian, commissioned by Giovanni Castriota Scanderberg. The monument is simple and it is famous for a painting representing the Holy Virgin Mary of the Rosary. The Church of the Crucifix was built in the XVI century after a miraculous event. In the XIV century a young foreign artist stopped at Galatone
and painted the Crucifix on the wall of a stall. A lot of believers went on pilgrimage each day to the stall to pray and some miracles happened. For this reason the inhabitants of this small town decided to build a church near the stall. It is imposing and sumptuous: the façade has a well-decorated portal over which you can see the sculpture of the Crucifix and of the angels. Also there are some very beautiful niches containing statues of saints and elegant floral decorations. The church is with nave and two aisles and Latin cross. Inside there are eight baroque altars, a XVII century organ, an elegant wooden ceiling and very interesting canvasses as that of the miracle St. Peter did to a lame, made by a Neapolitan artist, Aniello Letitia, who was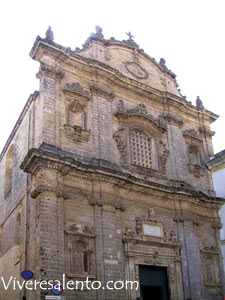 one of Giordano's disciples. Outside the inhabited centre you can see the Church of the Madonna of the Graces, that was built in the XVI century, thanks to the generous offers of the inhabitants of Galatone. The main façade is richly decorated and it has an imposing front door and four frescos representing some saints. Inside there are some well-decorated altars and wonderful frescos, as the XVII century one of the Madonna of the Graces with the Child. Near this church there is a Convent that was commissioned by Monsignore Tommaso Brancaccio and it was used to house the Franciscan Fathers until 1866. The Convent of the Capuchin Friars dates back to the XVII century and it was commissioned by the Marquis Cosimo Pinelli. The most ancient religious monuments are the Church of St. Vito ( XIII century) and the Church of the Itria, built in Romanesque style in the XII century. Galatone has two protectors, St. Sebastian and Jesus Crucifix, that are celebrated on January 20th and on May 4th.

The dialectal expression used to mean the inhabitants of Galatone is "autru dicune autru facune" , that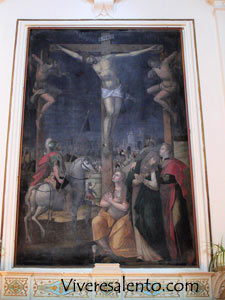 is they never do what they say, so they are not reliable. Probably, the nickname makes reference to the fact that the people of Taviano used to be very good dealers, so they were often cheat and they made promises they never kept.