The stately castle of Corigliano dates to the Middle Ages and was deeply restored in 1514 according to the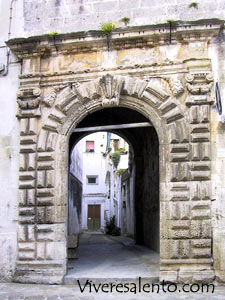 will of Giovan Battista De Monti who made it into a real fortress. The Turks arrived in this area in 1480, they destroyed all the villages around Corigliano, but they did not dare attack this castle and went on towards other towns. The castle has a square plan with four stately round towers. The moat of this castle can still be seen nowadays. Its beautiful façade is richly decorated with several statues. The windows are in Renaissance style and look very interesting. Parts of the old walls of the village can still be visited today as well as an old underground oil mill also in the nearby. In Corigliano there are several beautiful palaces such as Peschiulli Palace (18th century), Anchora Palace (15th -16th century), Rizzo Palace (17th century), Papuli Palace (18th century), Coia Palace (16th century), Comi Palace (18th century), Calò Palace (18th century) and De Monti Palace. The tower of the clock is also worth visiting, it dates probably to 1532 but it was restored both in 1644 and in 1770. Another artistic jewel is the Lucchetti Arch, named after the Lucchettas, an old family of Corigliano. This arch has been declared National Monument. It is made entirely in our beautiful local stone and was built in 1497 by Nicola Robi. The argument of the decorations of this arch are both sacred and profane: there is St. Michael, St. George with the dragon and a huge star on the left side. The parish church was built in 1622 on a pre-existing church whose portal (1573) has survived in the new church together with the statues of St Nicolas, of the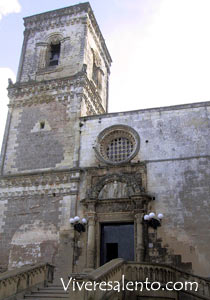 Redeemer and of Our Lady. The church has a Latin cross plan and the tourist will be struck by the beautiful mosaic floor representing the Tree of Life as the mosaic of the cathedral of Otranto, they actually look quite similar. Inside there are 13 altars, mainly in Baroque style, some beautiful columns and capitals, a pipe organ dating to the 18th century, some valuable frescos as that of Our Lady of the Rosary (1575) and some beautiful paintings of the 18th century. The bell tower of the parish church dates to 1467 and has been a watch tower during the Middle Ages. The church of Our Lady of the Graces was built in the 17th century. It is an aisleless church, inside the tourist can admire the altar of St Marina built in 1797 by the priest Oronzo Rizzo. In the church of Our Lady of the Sorrow the walls are made in our local stone and there is a 17th century painting by Oronzo Letizia representing the Virgin. The chapel of St Leonardo was built in the 15th century, its façade is very sober, there is a bell tower and a rose-window divided in 8 parts. The chapel of Our Lady of the Angels was built in the 17th century, its façade and the inside are very sober. In the past people used to dug small pools, called 'pozzelle', in order to have some water apart. Their structure is very similar to the public cisterns of the Greek cities in the 8th century B.C.. Around Corigliano there are several stone quarry, the same stone that our artists used in order to build our monuments and buildings because it can be easily carved. The protector of Corigliano D'Otranto is St Nicholas, that is solemnly celebrated on the 23rd of April.

The people of Corigliano are usually called 'màngani', which means silly. There is a legend about a farmer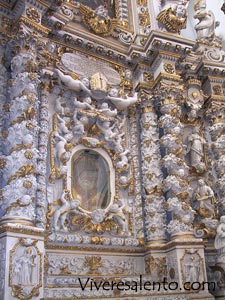 who, at the end of the day, was riding back home taking his tools on his donkey. The 'mangano' is a very heavy tool and, after a while, the farmer began to feel sorry for his donkey, which had to carry him and all those heavy tools. He wanted to help his donkey so he decided to carry the 'mangano' on his shoulders, but he did not get off the donkey! All the people he met could not help… laughing, because he looked rather silly.