The castle of Castro was built in 1572 on the rests of an old fortress dating to the Angevin period when it was thought of as one of the largest in the whole nation. The cathedral is also very interesting and it was built next to the former medieval cathedral which dated to the 10th century. Near the cathedral there are the rests of the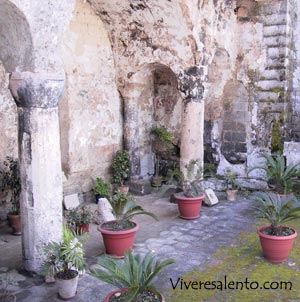 Byzantine Church of Saint Peter which was discovered by the Baron Filippo Bacile in the 19th century. It had a Greek cross plan and we can still see traces of its frescos. We do not know exactly when the cathedral was built but probably this happened later than 1573 when the village and the cathedral were completely destroyed by the Turks. Inside the cathedral the tourist can see valuable paintings as the that of the Rosary, the Annunciation and the Pity, an organ of the 18th century, Gothic archs and columns with beautiful medieval capitals. The tourist should also visit the Sanctuary of the Virgin of Pompei and every year on August the whole population organises a boat procession for her on the sea. Castro is on the Adriatic coast where there are several sea caves for instance the tourist could visit the Grotta del Conte (Count's Cave), Grotta del Giustino, Grotta Palombara, Grotta Azzurra, Grotta Ritunna, Grotta Romanelli, Grotta delle Striare. The most interesting of those caves is certainly the Grotta della Zinzulusa (Zinzulusa Cave). It was discovered in 1793 by Mons. Del Duca who thought it was the temple of Minerva and actually somebody has lived there in the Neolithic and the Palaeolithic age. Inside the cave the tourist can admire stalactites and stalagmites, in a small lake two rare crustaceans have been living for ages: the Spelaeomysis Bottazzii and the Typhlocaris Salentina. Now it is very easy to get in the cave which is open mainly in summertime and thousands of tourist came to see it every year. The patroness of Castro is the Madonna who is celebrated solemnly on the 22nd e 23rd of April.

The inhabitants of Castro are usually called "casciari" , this name is not linked to a legend but to the same name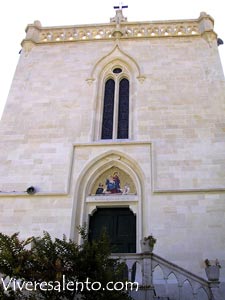 of the village that in our dialect sounds like 'casciu' so 'casciari' means 'people from Castro'. The name of the village comes from the Latin word "castrum" which means 'fortress' and, according to a legend, Idomedeo founded the village and called it 'castrum Minervae', the fortress of Minerva.