Surano is a small village of the Salento and it has got a very characteristic historical centre , with its small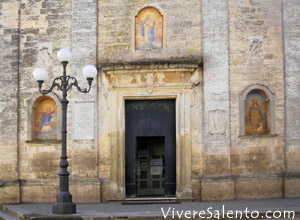 streets and typical case a corte . One of the most interesting monuments to see is the beautiful Baronial Palace, that was built in the XVI century, on a pre-existing. Firstly it was built to defend the village from the violent attacks of the enemies. The religious buildings are only three. The Mother Church, dedicated to Our Lady of the Assumption, was built in '700, on a XV century building. The imposing façade is decorated with a beautiful portal and two niches containing the statues of St. Rocco and of the Madonna. Inside you can see some elegant altars and interesting paintings. Outside the inhabited centre there is the Chapel of St. Rocco, dating back to the XVI century. The facade is very sober: inside there is a passage to reach a wonderful Basilian Crypt, in which there are some traces of ancient paintings. The Chapel of the Lady of the Graces, instead, is close to the Mother Church, and it is small. It is very sober and it is used only on special occasions. The patrons of the people of Surano are Our Lady of the Assumption, that is celebrated on August 14, and the Martyrs of Otranto.

The nickname of the inhabitants of Surano is "ciucci," meaning "donkeys". They are so called for an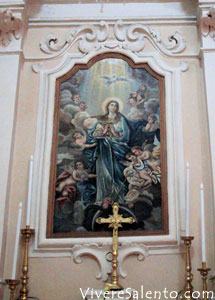 episode (probably not true) according to which a farmer and his donkey used to pass by a church to return home. One day the beast noticed that on the roof of the church there was some grass, so each time it passed near the church the donkey started to get excited and to bray. The stupid farmer, to satisfy the beast's will, tied it with a long rope, he got on the roof and began to pull up. The poor animal, that was about to die smothered, began to writhe moving its head. But the farmer, thinking that it was laughing went on pulling it up until the ass didn't die.