The historical centre of Spongano is very characteristic with its small narrow streets and its wonderful case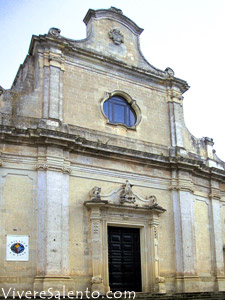 a corte. There are some ancient noble residences as well, like Rini Palace (dating to the XVIII century), the Baronial Palace, that was probably built in the XVII century on a fortress. The beautiful façade has a well-decorated portal and some elegant arcs. Inside there are some wide halls where the barons used to entertain their guests. One of the most important religious monuments is the Mother Church, built in the XVIII century on of a pre-existing monument. It has been restored a lot of times so far: the main façade is well decorated and it has an elegant front door. In this church with nave and two aisles you can admire some beautiful altars, a wonderful wooden choir made by an artist of the Salento and some interesting paintings representing holy scenes. The Church of the Immaculate is a very ancient monument and it dates back to the first half of the XVII century. The external façade is very linear and mirrors the simplicity of the inside where it is possible to see a beautiful XVII century painting of Our Lady of the Assumption. Outside the inhabited centre there are some masserie where some families used to live all together. The protectress of Spongano is St Victory, that is celebrated solemnly on December 23th.

The nickname of the inhabitants of Spongano is "pacci lunatici" that means "lunatic mad people", and it is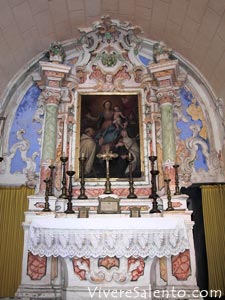 usually associated to an improbable popular anecdote that was invented by the people of the near villages. They are told that after a downpour there was a big puddle in the main square and it reflected the image of the moon. The foolish population of Spongano, who wanted to touch the moon with their hands, thought they simply needed to take it from the water. While they were thinking over an ox arrived and drank all the water of the puddle. The foolish inhabitants believed that the moon was in the belly of the poor beast, and decided to kill it.