In the historic centre the tourist can see the famous 'case a corte' and some beautiful palaces. The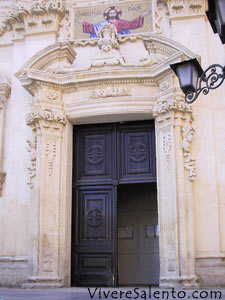 Ducal Palace was built in the 15th century for defensive purposes. The façade has an elegant portal with two columns in every side and a statue representing a coat of arms. In the upper part there are some beautiful windows. Its rooms are large and the courtyard is also very interesting. Between the 19th and the 20th century people also built some charming villas such as Villa Bruni, Villa Carelli, Villa Grassi, Villa Saetta and Villa Ida. The Mother Church is dedicated to Our Lady of the Assumption and was built in the 17th century. The front is very simple while the second façade is richly decorated in baroque style. Inside there are some finely decorated altars, a beautiful wooden Crucifix, an 18th century pipe organ, paintings on sacred subjects and a wonderful fresco of the 15th century. the Church of the Virgin was built between the end of the 17th and the beginning of the 18th century. The façade and the inside are richly decorated. The Chapel of St Anthony Abbot is in the historic centre, it dates to the 17th century and is quite simple. The small church of san Filii was built in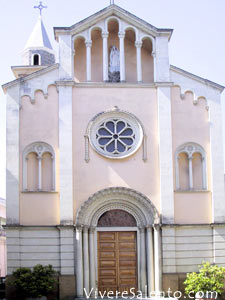 1970 on a pre-existing structure. It has a beautiful fresco of the 16th century representing Our Lady of Constantinople. The Chapel of the Baptist is probably the oldest religious building of this village because it dates to the 16th century. Inside the tourist will find some beautiful wooden statues and interesting paintings. The Chapel of the Crucifix was built probably towards the 18th century. the façade is decorated in Gothic style while the inside is very simple. The patron saint of the village is St Anthony of Padua and the population celebrates him on the first Sunday of August.

The nickname of the people of Monteroni is "scarpa pulita" (clean shoes). There is nothing unpleasant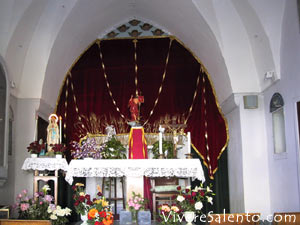 in those words they only refer to their job. The country around the village is not big enough to allow them to agriculture or cattle-breeding and they decided to specialize in the shoe handicraft.