Melpignano is a village of the Grecia salentina, an area where the influence of the Greek traditions has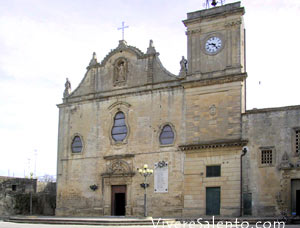 been very strong, for instance the priest followed the Greek religious rite until the 16th century. In the historic centre there are the typical 'case a corte' and some beautiful palaces such as Maggio Palace, Dimitri Palace and Veris Palace, all dating to the 18th century. The Baronial Palace was built in the 17th century on the rests of an old fortress. In the past it was a defensive structure. The façade has an elegant portal, a beautiful portal and finely decorated windows. Its rooms are very large and decorated with precious paintings. Its garden is very refined and has beautiful sculptures. The Mother Church is dedicated to St George. It was built in the 18th century on a structure of the 15th century and was restored several times. On the 16th century portal there are some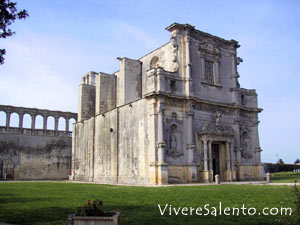 Latin and Greek inscriptions while the façade is well decorated. Inside there are refined altars, interesting paintings and beautiful frescos with sacred images. This church is in St George square and is considered as one of the most beautiful squares of the Salento. Its porticos date to the 16th century, there is also a Watch Tower, the chapel of the Annunciation and a 17th century underground oil mill. The Chapel of Our Lady of Constantinople dates to the 16th century and is very simple. The chapel of the Magdalena is very simple and was built in the 17th century after a prodigious event because the Virgin saved the population of Melpignano from the plague that was killing the neighbouring population. The former Convent of the Augustinian Friars is outside the urban area. It was built during the 16th century. It has a beautiful cloister and has been classified as a National Monument. The façade of the church of the Carmine is decorated with a portal, a sculpture of the Virgin with the Child, two niches with statues of the saints and a big window. Inside there are seven altars and interesting paintings. The village has two patron saints: St George and St Mary Magdalena celebrated on April 23rd and July 22nd.

The nickname of the people of Melpignano is "sciusci" (donkeys). The legend says that once a farmer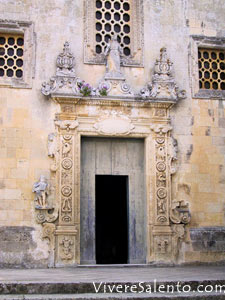 saw a nest on a tree and decided to bring it to his children. Since it was on a very tall tree, he decided to put his ladder on the donkey in order to reach it. While he was on the ladder he thought that the situation was actually dangerous because the donkey could move for any reason. As soon as he thought it , the donkey run away and the farmer fell with the nest.