In the historical centre of Giuggianello there are the typical case a corte and some very interesting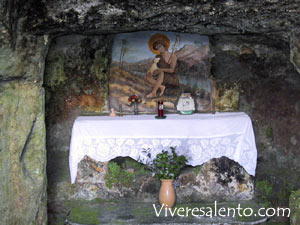 noble residences as Frisari Palace, dating back at the end of the XVII century, and Lubelli Palace. The latter was built in the XVIII century, on a pre-existing XV century fortress. The wide façade has a well-decorated portal. There are not many religious monuments: the most important is the Mother Church devoted to St Anthony Abbott, and it is in the historical centre. It was built in the XVIII century, on the rests of another small church. The façade is very linear, with a beautiful portal and a big window. Inside you can admire some elegant altars and paintings. The Chapel of the Madonna of the Poor was erected in the XVII century and it was restored in 1782. It is an aisle less chapel and both its facade and the interiors are very simple. Outside the inhabited centre, you can visit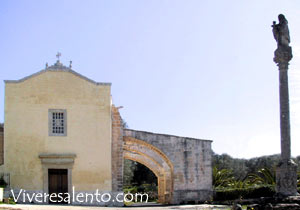 the Chapel of the Madonna of the Greenhouse. The façade is very linear and it is aisle less. Here the Mass is celebrated just once a year during the feast of the Holy Virgin Mary. Another interesting monument to see is the Byzantine Crypt of St John, situated in the open country between Giuggianello and Palmariggi. It is dug in a cave and inside there are still the rests of ancient frescos representing holy images. It was used to celebrate ceremonies with the Greek rite, but later it became a place of Christian cult. In the country there are a lot of olives, that is why, once, there were many oil presses dug in the subsoil, but unfortunately now hardly anything has left. In fact there is a oil mill called "Lu Trappetu" dating back to the XVII century. The protector of Giuggianello is St. Christopher, that is celebrated solemnly on July 25th.

The nickname of the inhabitants of Giuggianello is "carniocculari" that, literally means toads. That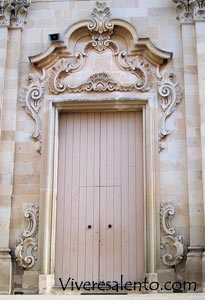 nickname is closely connected to a historical event that happened when the Prince of Taranto decided to establish the borders among Giuggianello, Sanarica, Muro and Minervino. The feudal vassal of Giuggianello claimed that the Casale of Pulisano, a damp and marshy place full of frogs and toads, belonged to him. Also the vassals of the other near casali wanted to annex Pulisano, but they did not have success. So the envious inhabitants of Sanarica, Muro and Minervino gave this nickname to the people of Giuggianello.