The Castromediano's Ducal palace is one of the most interesting Palaces of Cavallino. It was built in

the 15th century for defensive aims. It was restored several times and became more and more beautiful. The decorations are in Renaissance style and its rooms have refined frescos and interesting paintings. Inside there is a big sculpture representing Chiliano Limburgh an ancestor of the Castromedianos. The statue was made probably in the 12th century by a Sicilian artist. The stately bell tower was built in 1787. It is 43 m high and is the tallest after that of the Cathedral of Lecce.The Mother Church is dedicated to Our Lady of the Assumption. It was built in the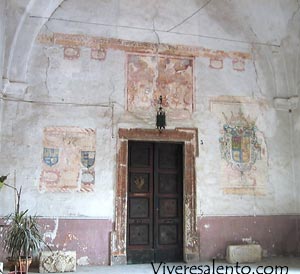 17th century on a pre-existing structure. Its façade is richly decorated with an elegant portal and two niches with statue of the saints. Inside the church there are some refined baroque altars, the sepulchral monument of the Castromedianos (1637) and some paintings with sacred images. When the Basilian monks were in Cavallino, they built a crypt and on it the marquis Francesco Castromediano built a Convent and the Church of the Dominican Friars. The family coat of arms can be seen on the façade and inside there are nine altars, a wooden pulpit and some paintings. The convent has been restored and is now used for public shows. The Church of St Mary of the Mountain was built after a prodigious event. A group of oxen was quietly pasturing when one of them began to dig a hole with its legs. The shepherd looked into the hole and saw a stone with the image of the Virgin. The people of Cavallino decided to build a church where the image was found, every day they built the walls for the church and every night the walls collapsed. The population was shocked and confused because they did not know what to do. One night a woman dreamt of Our Lady and she told the woman where exactly the church had to be built so the church finally stood up. The patron saint of Cavallino is St Domenico from Guzman and is solemnly celebrated on August the 4th.
LEGEND
The people of Cavallino have two nicknames: "caddhinari" (chickens) and "figghi te muli" (mules'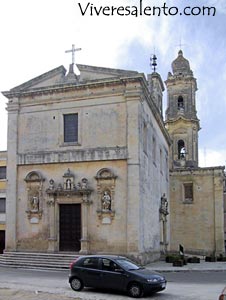 sons). We do not know how those nicknames were chosen but the people of the neighbouring villages probably meant that the people of Cavallino are as stupid as the chickens and as stubborn as the donkeys.