Castrignano de' Greci is in the area of the 'Grecia salentina' that is a part of the Salento where the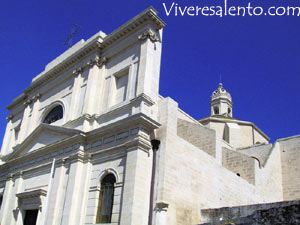 Greek traditions, religious rites and the language as well have influenced the population for a long time. Those who live in this area can still speak the 'griko' which is a Greek dialect. The historic centre has the typical narrow streets and the beautiful 'case a corte'. The castle was built in the 16th century on the rests of an old fortress. The portal is very interesting with a statue representing the family coat of arms. The castle was in the past a defensive structure and it had also a drawbridge and a moat. The Mother Church is dedicated to Our Lady of the Annunciation. It was built in the 19th century on the rests of another old church. The façade is richly decorated and inside there are nine wonderful altars made in Carrara marble, valuable paintings by the artist Altamura from Foggia. The old baptismal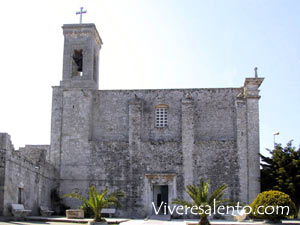 font of Greek rite is very interesting. The bell tower is a very interesting building, it has three floors and a nice small dome. The Byzantine Crypt of St Onofrio dates to the 6th century and we can still see the rests of the frescos on the walls. There used to be a Church on the crypt but it was destroyed. Around the crypt people found many holes where the monks used to pray and fast. The monks used to meet in the Crypt only on Sunday to celebrate the Mass. The Church of Our Lady of Arcona was built in 1731. The façade has a beautiful portal with a wide window. The church is aisleless and inside there are two beautiful altars and some paintings. The Church of the Virgin was built in the 17th century. The façade has a beautiful portal and inside there are some refined altars and interesting paintings. In Castrignano there are also the rests of some old 'pozzelle', big holes carved in the stone in order to save some water for the summer. The patron saint is St Anthony from Padua and is solemnly celebrated on August 22nd and 23rd.

The nickname of the people of Castrignano de' Greci is "lardusi" that means ''fat'' but also lying and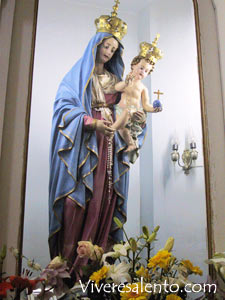 arrogant people. A legend says that a young man of Castrignano had a girlfriend in another village and since he got tired of walking every day to go and see her, he persuaded her to run away with him. While he was taking her to Castrignano he told her he was so rich that everything she saw belonged to him. When they arrived in Castrignano, the girl saw the house of the boyfriend and understood she had just run away with the poorest boy of the village.