The historic centre of Carpignano has several interesting monuments and beautiful palaces. The ducal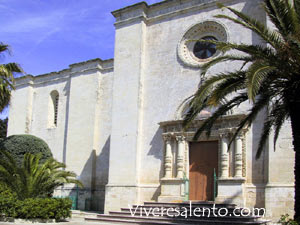 Palace was built in the 17th century for defensive purposes. The front has a finely decorated portal with two elegant columns, in the upper part there is the statue of the coat of arms. The Mico Palace and the Brunetta Palace date to the 17th century while the Tommasa Palace and the Sansonetti Palace date to the 16th century. The Mother Church is dedicated to Our Lady of the Assumption and was built in the 16th century. the façade is decorated with an elegant portal. Inside there are some interesting paintings, a mosaic flooring, a 16th century font and the beautiful altars, some of them attributed to Placido Buffelli. The Church of the Virgin was built in the 18th century and is very sober. The Sanctuary of Our Lady of the Cave is in the countryside and it was built after a miracle: in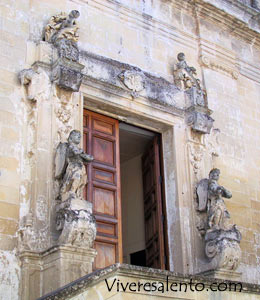 July 1568 three brothers went to harvest and brought their father with them even if he was lame and blind. When a violent storm arrived they brought their father in a cave and went back to save the harvest. The man was left alone, fell asleep and dreamt of the Virgin and she told him to go to and call the priest of the village because in cave there was an image of Her. The man was mortified and reply he could not go on his own, but she told him she would heal him. Before disappearing she also said she wished to have a church in that place. When he woke up, he was healed, they found the image and built the church between 1570 and 1591. From this church man can also reach a small crypt with rest of frescos. Another interesting crypt is dedicated to Our Lady of the Graces also called St Marina and Cristina. It is in the historic centre and dates to the 9th century. It is one of the oldest crypts in the Salento and its frescos date to the 10th century. In Carpignano there are several dovecots and one of the biggest of the Salento and dates to the 15th century. In the countryside the tourist can still admire some old fortified farms such as the Masseria Sciusciu where the farmers used to live in the past. The patron saints of Carpignano are St Anthony of Padua celebrated on June 13th and Our Lady of the Cave (July 2nd).

The nickname of the people of Carpignano Salentino is "Jews" that means they are selfish and wicked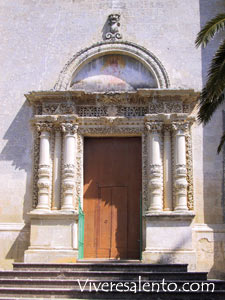 people. The legend says that during the procession of the Corpus Domini a storm broke, of course people run to find shelter and left the pyx under a wash tub. They acted as disrespectful people and from then on were called 'Jews'.